ACS smart card reader receives FIPS 201 certification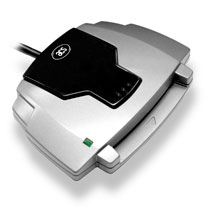 ACS has announced that the ACR38 smart card reader has obtained FIPS 201 certification.
The approval of the reader enables the ACR38 to be used by federal agencies in their smart card applications such as physical access, network access and other authentication solutions. The FIPS 201 certification is a requirement of GSA for devices used in a smart card solution to ensure government-wide interoperability.
ACS also has unveiled the ACR38K Smart Keyboard. The ACR38K Smart Keyboard combines the smart card reader to a keyboard which enables convenience to implement smart-card-based systems or applications in the PC environment.
The keyboard has a ACR38 smart card reader module embedded and supports a variety of smart cards including ISO-7816 Class A, B and C cards as well as most of the common memory cards.