GSA approves BIO-key algorithms for use in FIPS 201 solutions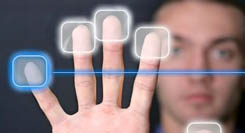 BIO-key International, Inc. announced that the U.S. General Services Administration (GSA) has included BIO-key's Vector Segment Technology® (VST) fingerprint software in their listing of approved products as part of the GSA's FIPS 201 Evaluation Program (GSA FIPS 201 APL). BIO-key's VST software enables ANSI-INCITS 378 template generation and matching and can be easily integrated into a wide range of credentialing, logical and physical access control solutions. BIO-key's fingerprint software is reader-independent and works seamlessly with every major fingerprint reader manufacturer, and provides full support for a wide number of single-finger devices included on the GSA FIPS 201 APL. This allows the integrator to select the most appropriate fingerprint device to suit the specific application and provides the flexibility to add new devices from a wide spectrum of suppliers.
Read the full article at SecureIDNews.com.