HID global chosen supplier of card printer/encoders for U.S. department of defense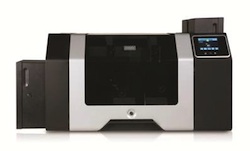 HID Global was selected by the U.S. Department of Defense as the main supplier of printer/encoders for its Common Access Card program. HID Global's FARGO HDP5000-LC ID card Printer/Encoders will include customized enhancements to handle the government project requisites, and will feature customer support service.
The HDP5000 features a SmartScreen LCD Control Panel, an embedded OMNIKEY contactless encoder, standards USB and Ethernet connectivity, cartridge-based consumables and a dual-sided card printing option that removes the need to manually reload the cards.
The primary use for the printers will be the Defense Department's Common Access Card program, which prints more than of 3 million cards annually.
The FARGO HDP5000 has proven to be a simple, cost-effective and durable solution in the past as the Defense Department has been employing the use of HID's High Definition Printing (HDP) for more than 10 years.