Sagem Morpho announces MorphoAccess 500 series biometric access control terminal as "new benchmark"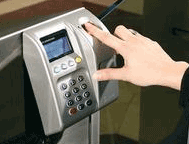 The MorphoAccess™ 500 Series of indoor and outdoor biometric access control terminals is now available from Sagem Morpho. The MA500 Series terminals have dual-core ARM9 microprocessors with multi-thread processing capability and have an internal database storage capacity of up to 50,000 records. The terminals also have a large area optical fingerprint sensor that is FBI PIV IQS certified and meets PIV FIPS 201 requirements. Versions are also available with internal contactless smartcard readers and fake finger detection.
Read the full article at SecureIDNews.com.