Thursby adds Mountain Lion compatibility to PKard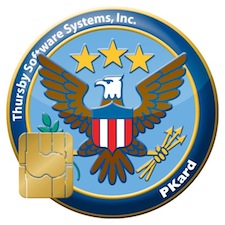 Thursby Software Systems, Inc. has expanded the Mac compatibility of its PKard smart card with its PKard for Mac v. 1.2. This version integrates the smart card to Apple OS X 10.8 Mountain Lioin.
PKard for Mac provides smart card access to secure websites, Web VPN and secure Apple mail for the bring-your-own-device (BYOD) market. Its two-factor authentication meets the standards of the U.S. Department of Defense, federal and corporate Mac users for CAC, PIV, PIV-I or CIV uses.
The new update is currently available on the market. It's free to all existing customers and costs $29.95 for those who need support for Mountain Lion. Thursby is also still supporting Mac's Lion and Snow Leopard releases.